On Wednesday, 12 June 2019, by Legal Notice No. 32 ("Legal Notice"), the Minister of Fisheries in exercise of his powers amended the Offshore Fisheries Management Regulations 2014 and introduced seasonal bans of species of sea cucumbers, groupers and coral trout with effect from 1 June 2019.
The exercise of the Honourable Minister of Fisheries' powers reflects the growing public concern for the health and sustainability of Fiji's inshore fisheries, the ongoing success of Fiji's 4FJ public awareness campaign and the commitment and vision of Fiji's Ministry of Fisheries working with various NGOs and academics to take action to conserve and manage Fiji's vital fisheries resources for future generations in line with Fiji's commitments to the United Nations Ocean Conference.
In this bulletin, we set out the amendments to the law that are now in force, and briefly discuss the factors that have led to the implementation of this conservation initiative.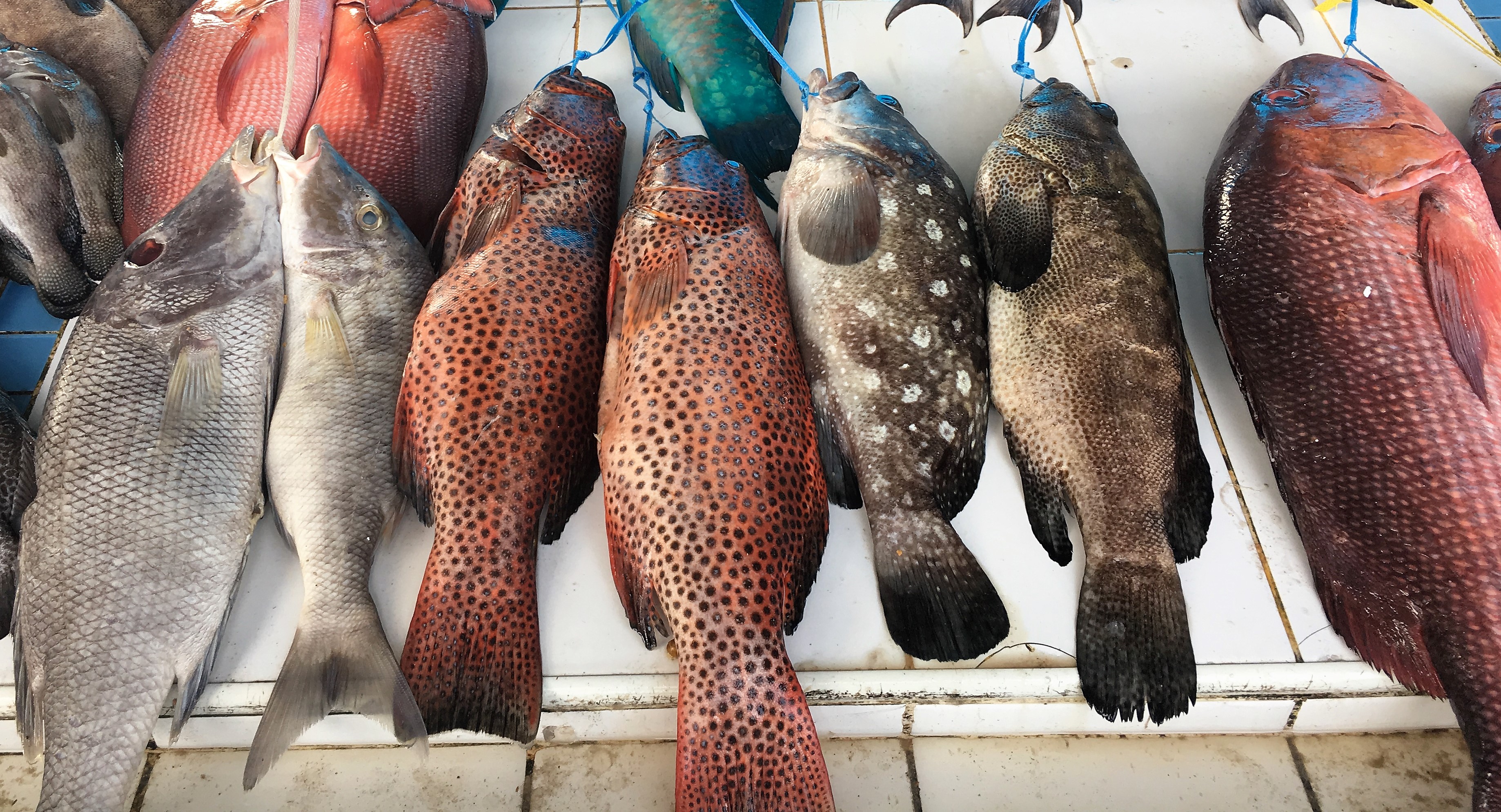 Reef fish displayed for sale in Labasa fish market, Vanua Levu. Now that the new Regulations are in place it is against the law to catch and sell fish that are subject to seasonal bans and this requires vigilance.
Powers of the Minister of Fisheries
The purpose of the Offshore Fisheries Management Act 2014 ("the Act") which applies to all Fiji Fisheries waters is to make provision for the management, development and sustainable use of Fiji's fisheries and living marine resources and for related matters [with our emphasis].
Pursuant to section 104 of the Act, the Minister of Fisheries is empowered to make Regulations necessary to give effect to provisions of the Act and includes, amongst other things, measures for the conservation, management, development and regulation of fisheries or any particular fishery.
From the time that the current Minister of Fisheries, the Honourable Semi Korailavesau has been in position, he has taken the time and made considerable efforts to understand the issues that are adversely affecting Fiji's inshore fisheries. This has included trips around all areas of Fiji where the concerns of fishing communities have been listened to. The Ministry of Fisheries under this leadership made various commitments to the first UN Oceans Conference in 2017 that was co-hosted by Fiji. Right at the top of this list of commitments was the protection of grouper species.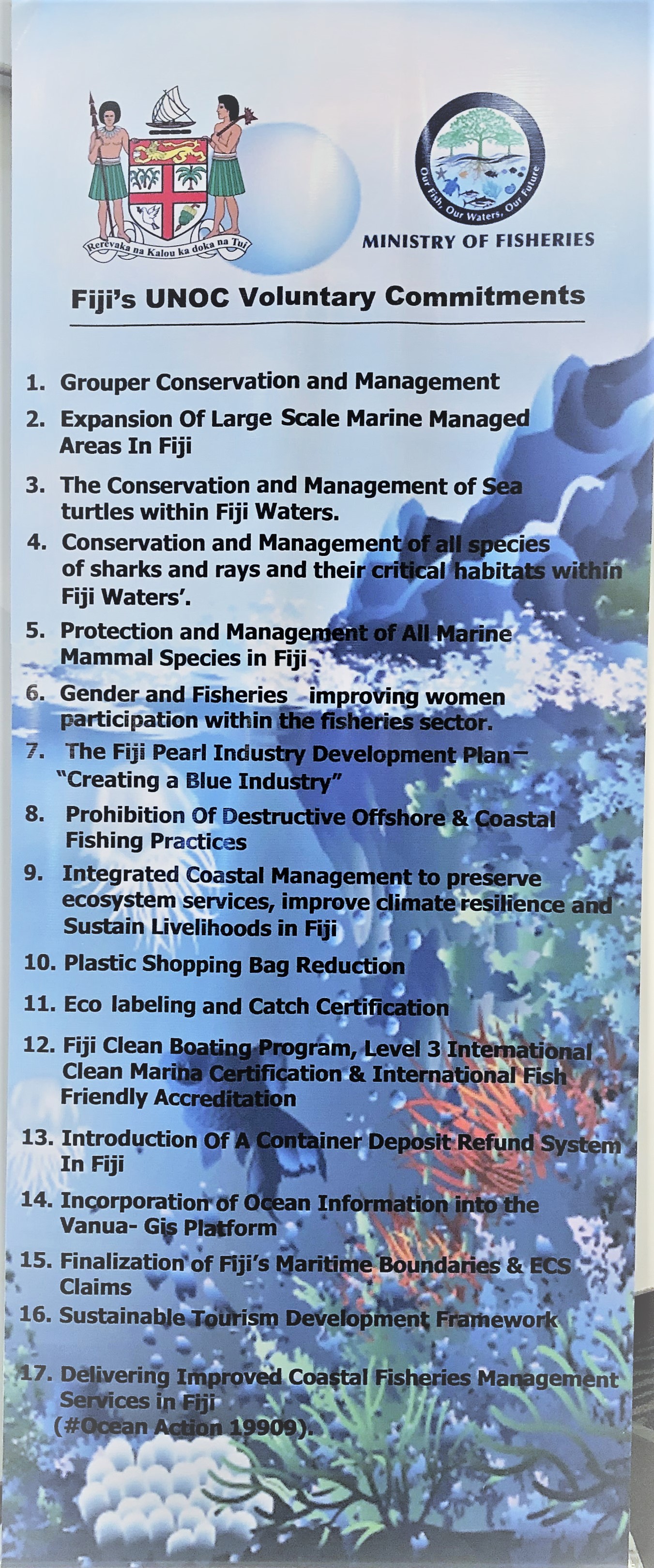 The list of Fiji's commitments to the United Nations Ocean Conference as produced by Fiji's Ministry of Fisheries
Seasonal bans for species of groupers and coral trout
Pursuant to the Legal Notice, the following species of grouper and coral trout shall be subject to a seasonal ban from 1 June to 30 September each year: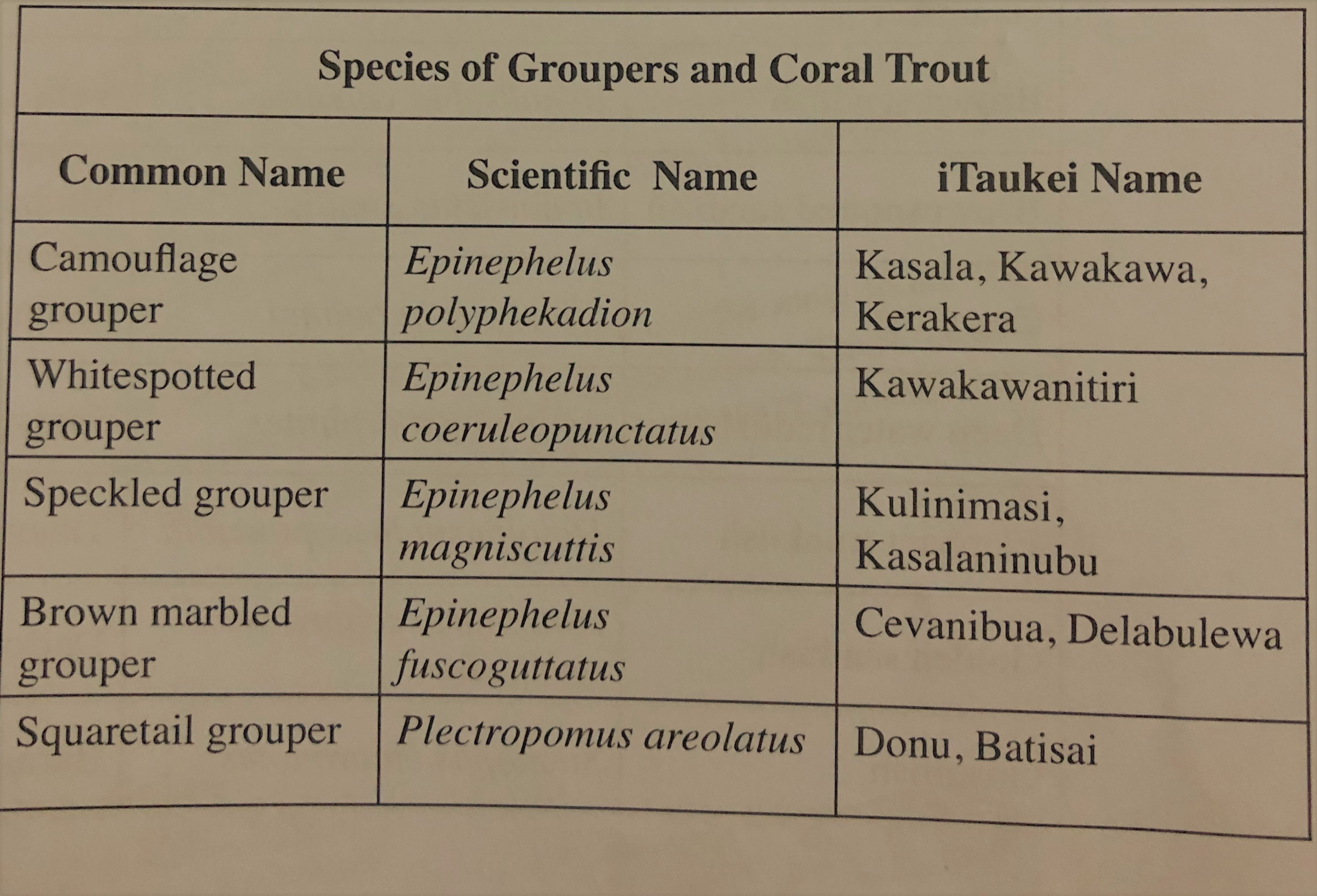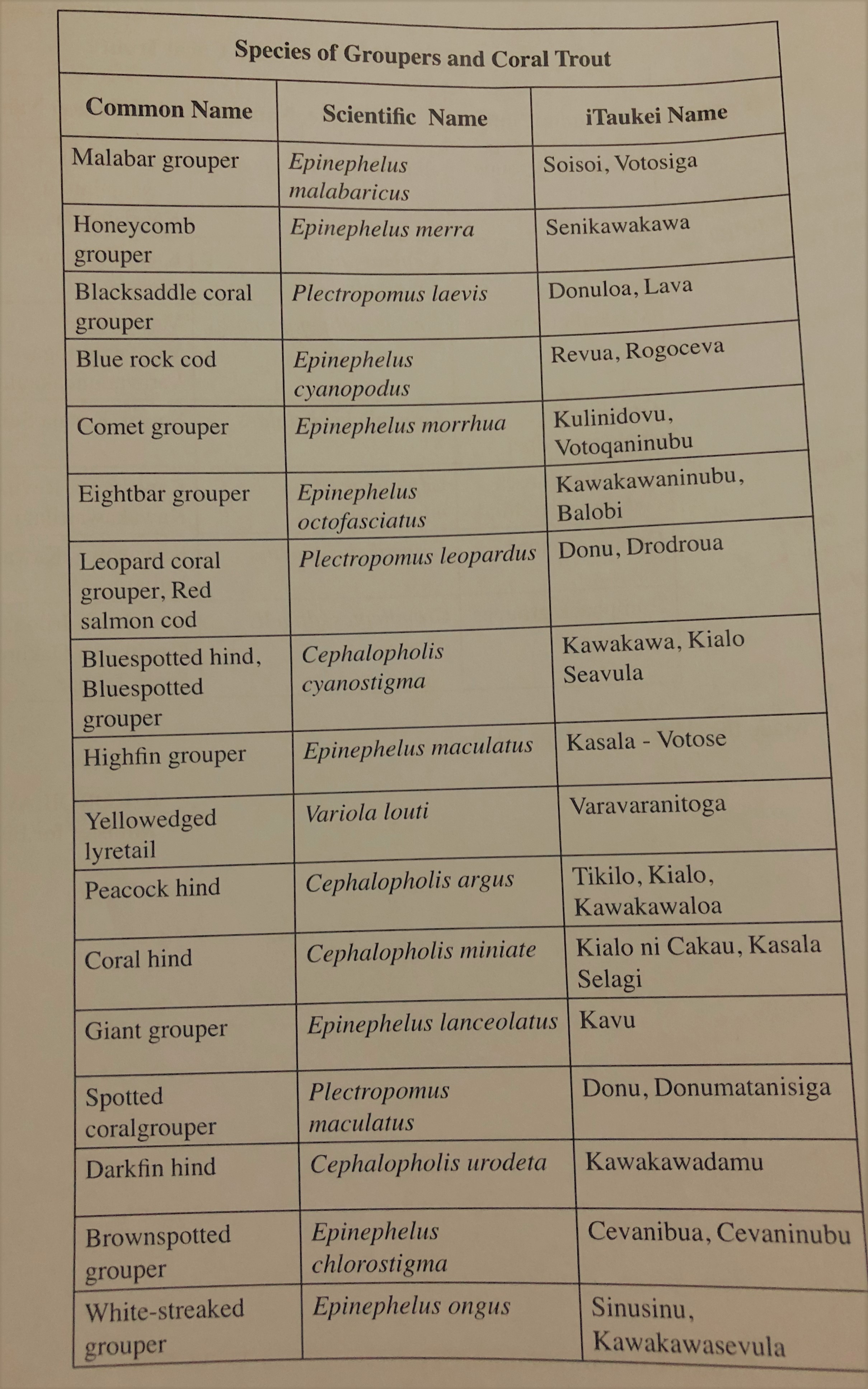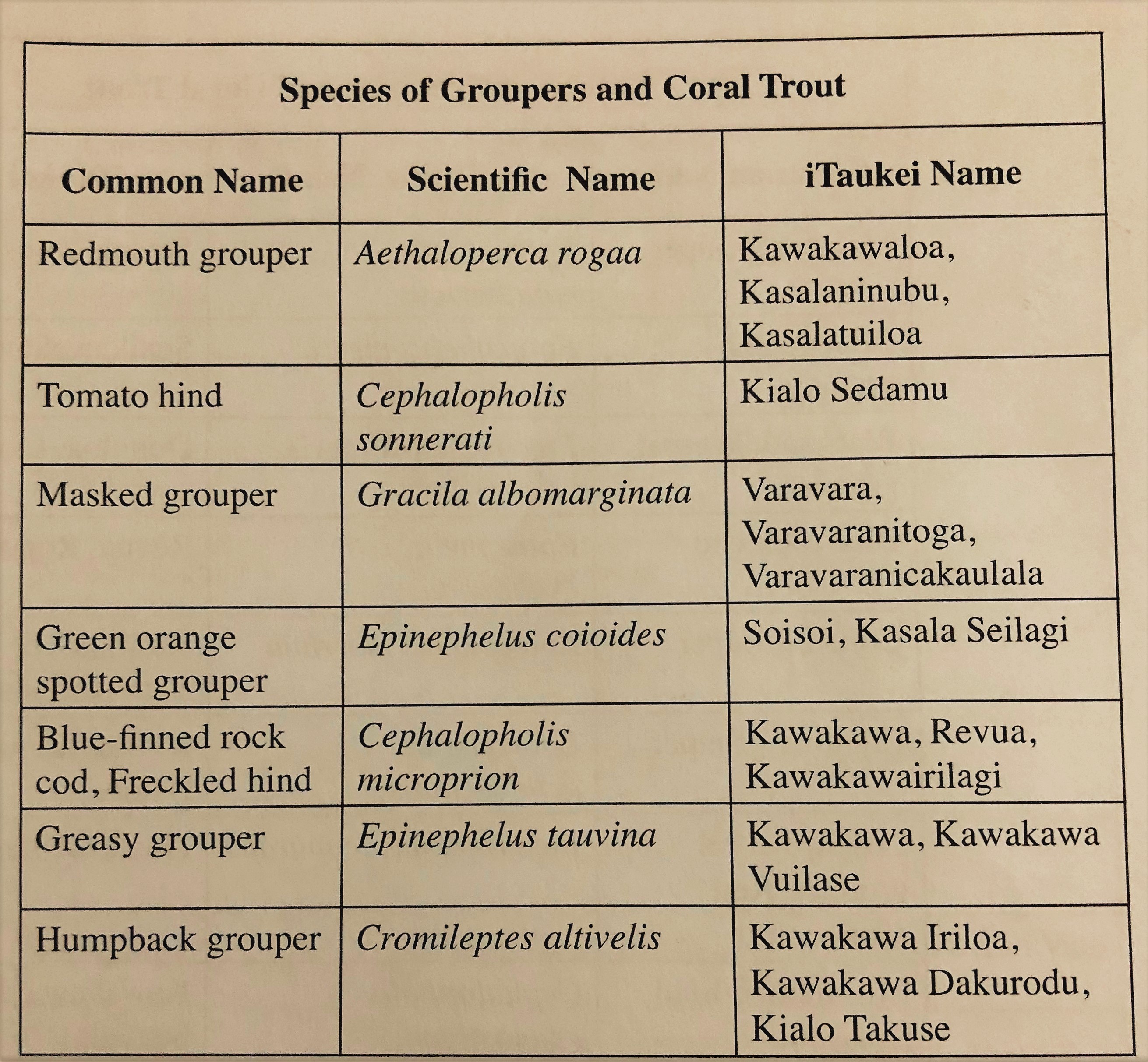 The seasonal bans for these grouper and coral trout species, that are among the most highly-prized eating fish for the domestic and some notable export markets, has been put in place to prevent these fish from being caught during their breeding season.
This initiative has been the result of collaboration between a number of NGOs and academics and in particular cChange in collaboration with and in support of the Ministry of Fisheries. The 4FJ (for Fiji) Campaign has gathered a lot of support from the public after extensive outreach programmes. This campaign began with local awareness raising and voluntary pledges from the public to refrain from eating Grouper (kawakawa) and Coral Trout (donu) from the 1st of June through to the 30th of September based on scientific advice relating to breeding seasons.
To read more about the successful 4FJ campaign, their informative and beautifully designed website can be viewed here and the informative blog on how it achieved and continues to achieve change can be found here.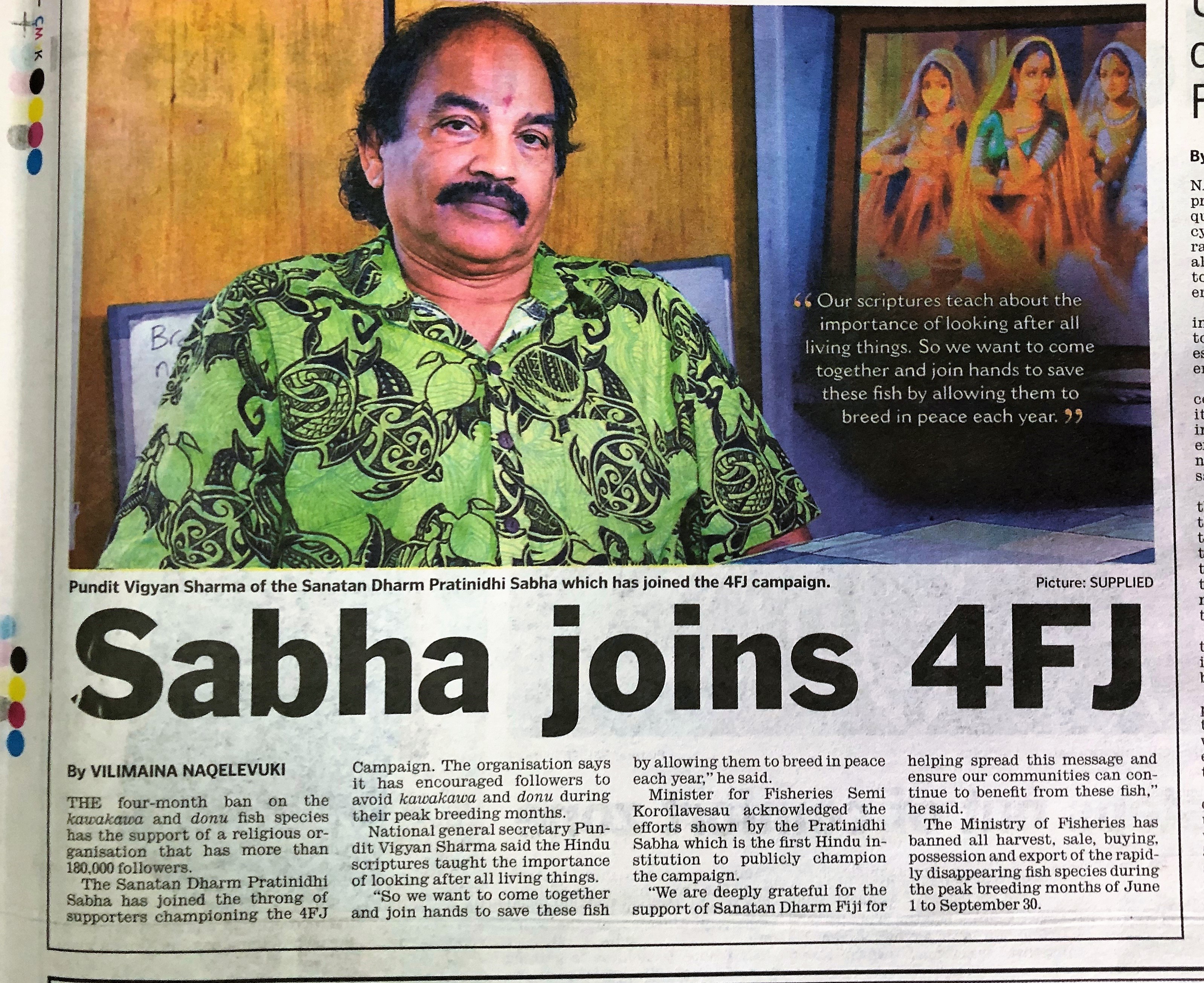 4FJ's campaign and reach has been impressive and the above report is from today's Fiji Times, 14 June, 2019 - more information is available via the 4FJ website
Seasonal bans for Sea Cucumbers (Beche de Mer)

Fiji has a long history with beche de mer or sea cucumbers and for many years the harvesting practices for beche de mer have been dangerous and unsustainable with little or disproportionately unfair reward for the iTaukei communities who take the risks to harvest what for the most part are communally owned resources.

For more information in relation to the risks and reward to iTaukei communities, please see our earlier legal bulletin.

Tragically, the use of underwater breathing apparatus actively supplied and promoted by middle men led to the deaths and disability of many young iTaukei men from communities across Fiji but mostly in Bua and Macuata, Vanua Levu.

At one time it was estimated that the cost to the State was in excess of FJ$500,000 to provide urgent medical treatment via decompression chamber treatment. Those figures, of course, do not take account of the personal tragedy and the ongoing burden and costs of caring for men disabled by these unsafe and then unregulated practices.

In response to the unsustainable and dangerous practices that were highlighted via the joint efforts of the Ministry of Fisheries and various academics and NGOs, including but not limited to WCS, FELA, FLMMA and WWF, action has been taken by the Ministry of Fisheries.

The Regulations now include the following amendments as a result of the Legal Notice:

The following species of sea cucumber shall be subject to such seasonal bans as determined by the Director of Fisheries: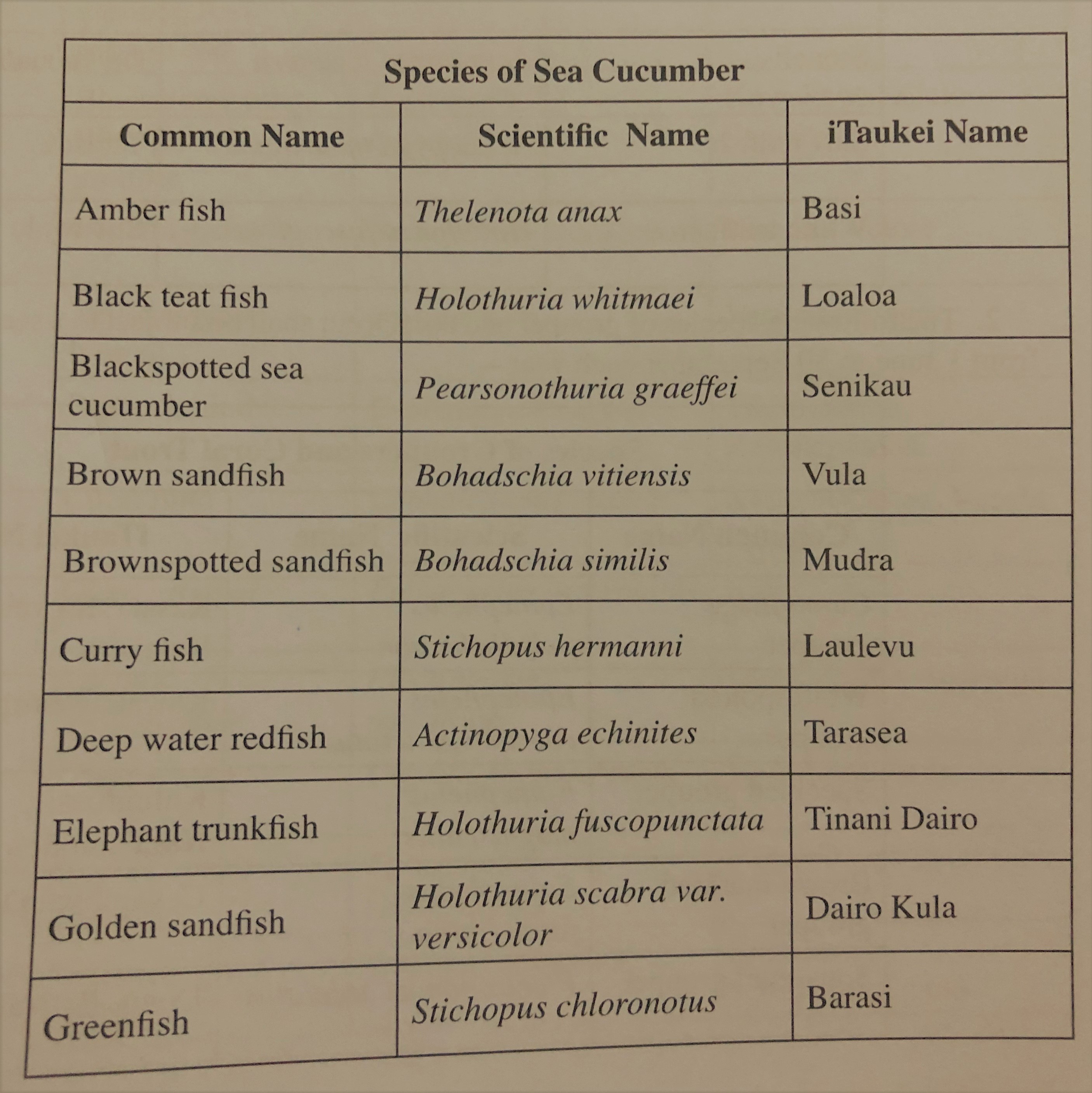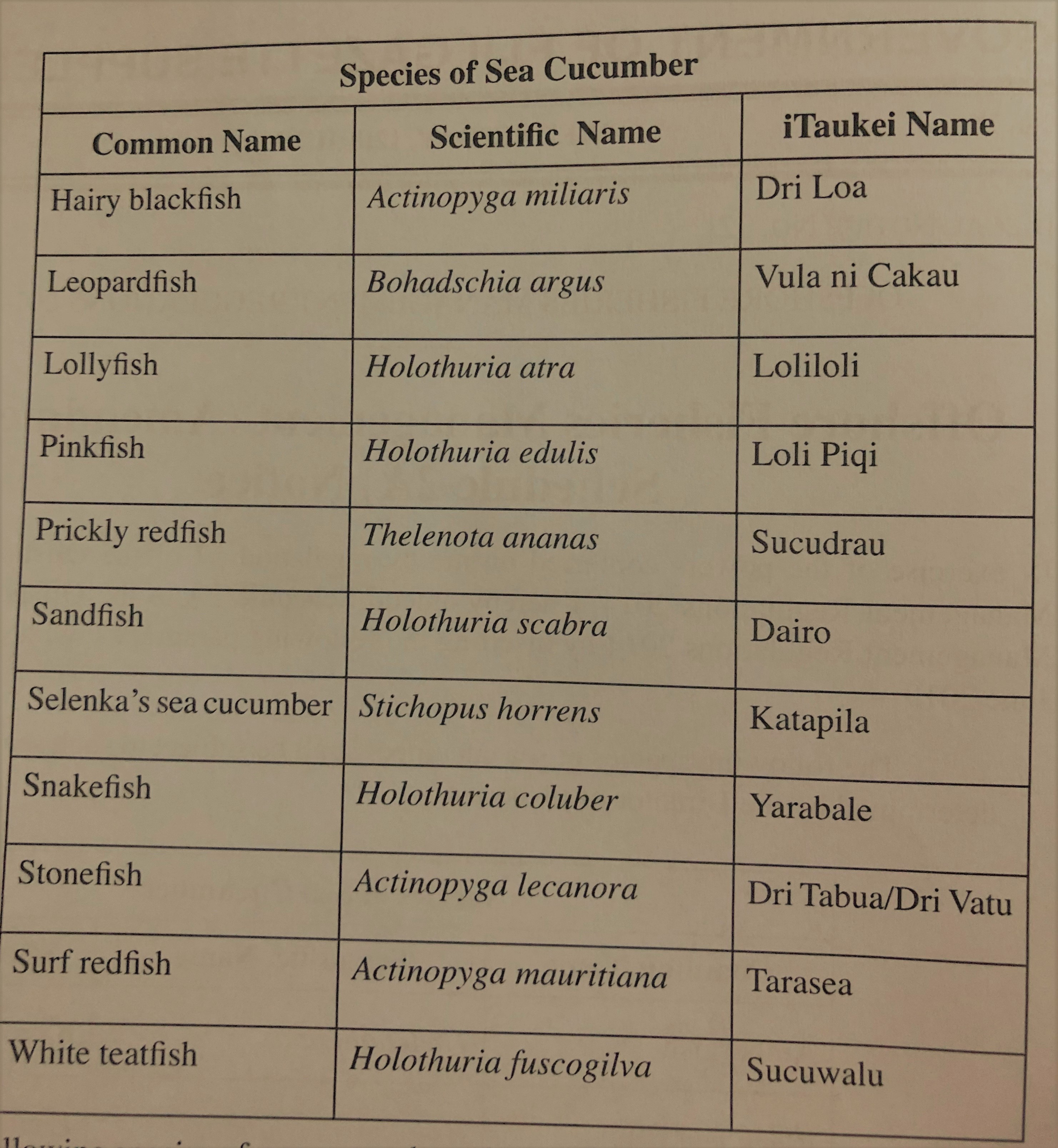 Concluding remarks
The amendment to Fiji's fisheries legislation to include seasonal bans for species of sea cucumber, groupers and coral trout is an important step towards more sustainable inshore and nearshore fisheries management for Fiji. It reflects the understanding, commitment and leadership of the Ministry of Fisheries including the Minister, Permanent Secretary, Director of Fisheries and Head of the newly created Inshore Fisheries Management Division.
The enforcement of such bans is not an easy task and will require the coordinated efforts of the Ministry of Fisheries together with other government agencies, and to this end the Ministry of Fisheries, and particularly the Inshore Fisheries Management Division (IFMD) have been hosting inter-agency National Inshore Fisheries Enforcement forums for two consecutive years.
In addition a number of other inshore fisheries management initiatives are underway or being contemplated by the Ministry of Fisheries. For example, at the present time, the Ministry of Fisheries and the IFMD are looking at minimum fish sizes as these may be amended to provide vital reef fish with more time to grow and breed before they are caught. Further, more protection may also need to be provided to the bigger fish that are so important for both breeding and replenishing fish stocks as well as for Fiji's tourism industry which is largely based on healthy oceans. We provided some information on this in our earlier legal bulletin.
Finally, it is important to acknowledge and reflect that many individuals working for NGOs, academic institutions and government departments have been part of and collaborated on all the initiatives that we have briefly outlined above. The level of collaboration and effort required demonstrates the inter-disciplinary nature of oceans governance and that fisheries management is complex and requires collaboration and support from many people and institutions. Ultimately, the enforcement of all fisheries management initiatives rests with the State and this means its implementing agency, the Ministry of Fisheries who deserve support and acknowledgement for their efforts. It is also important to consult and win public support for fisheries initiatives and ensure they are suited to the local context as this will make implementation more successful and less of a drain on Fiji's resources.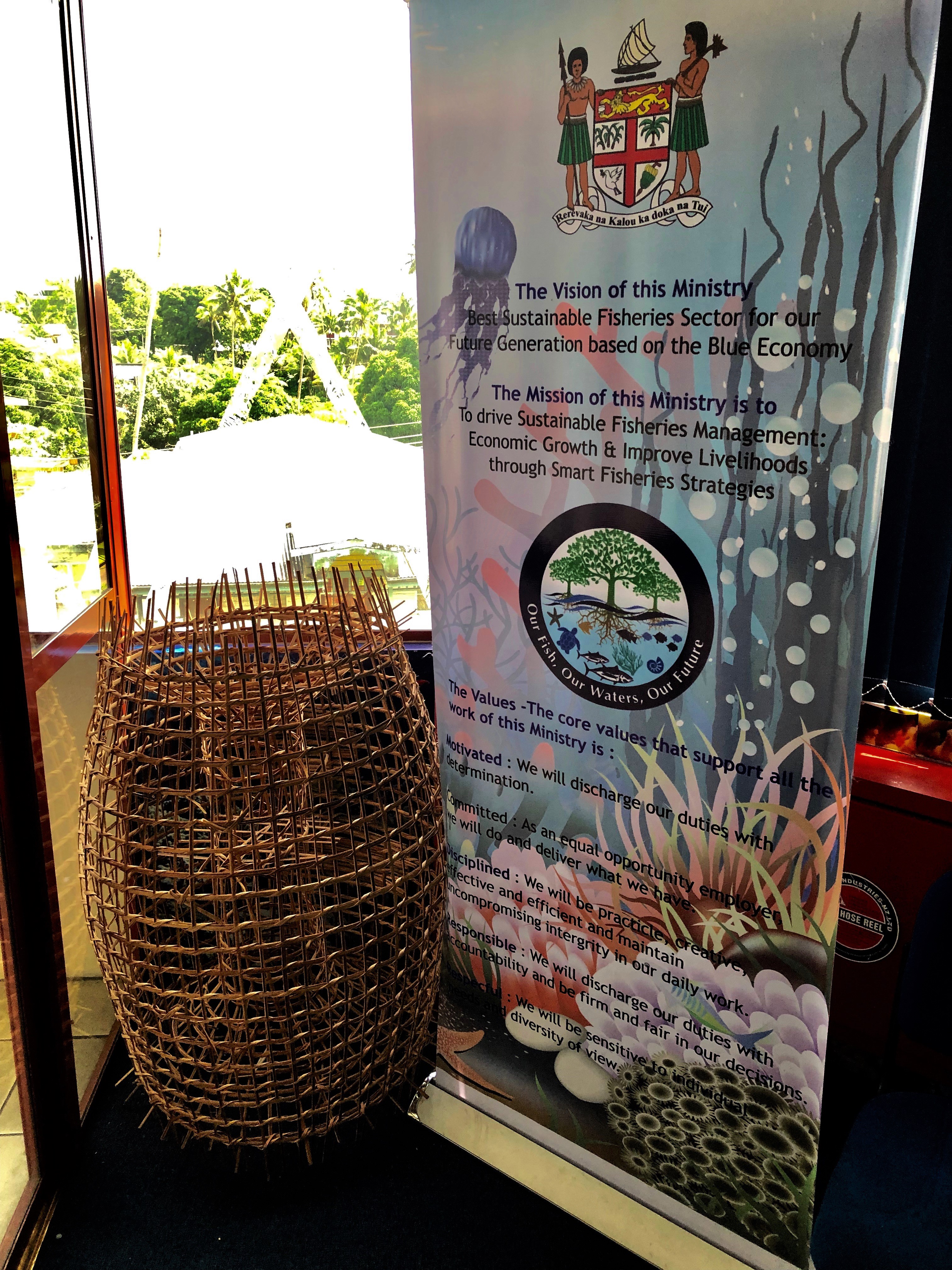 Please note: This legal bulletin is provided for information purposes only. It is not intended to be legal advice, and nor should it be relied on as such.