This is a big year for oceans governance in Fiji and the Pacific. The Fiji government has just published Fiji's first National Ocean Policy (NOP) online and has announced that the NOP will be "enshrined in law" as part of its proposed Climate Change legislation. Fiji will then move towards designating 30% of its 1.2 million km2 of ocean within its Exclusive Economic Zone (EEZ) as marine protected areas (MPAs) with 100% sustainable management of its EEZ by 2030. These ocean initiatives are line with the United Nations Sustainable Development Goal 14 (SDG 14 - Life Below Water), and Fiji's long standing commitments on the world stage.
Fiji's goal to designate 30% of its EEZ as offshore MPAs presents significant challenges for the Fiji government because - to put it bluntly - this is an expensive initiative. In 2021, more than ever before economies everywhere, and particularly in the Pacific, are suffering. In this context designating MPAs that will alter and limit existing rights and activities, including but not limited to existing fishing practices that contribute to Fiji's economy, requires both significant political will and long term funding. This funding is essential to undertake a proper process of designating MPAs but more importantly to assist the longer term government burden of regulation of those designated MPAs. This regulatory burden includes the ongoing monitoring, control, surveillance and enforcement of Fiji's EEZ and MPAs across a vast area of Pacific ocean.
In February 2021, the Office of the Pacific Ocean Commission (OPOC), established under the Pacific Ocean Commissioner, Dame Meg Taylor launched an excellent "suite of Ocean reports" with a focus on ocean finance. This focus on ocean finance is well timed to assist PICs to address the major challenge of finding a way to make the protection of its ocean ecosystems both politically and economically viable.
In this bulletin we consider OPOC's paper "Funding Marine Protection At Scale" and make some respectful recommendations in relation to how to increase the funding within Fiji to assist Fiji's government, acting on behalf of the State, to fund the designation and regulation of MPAs.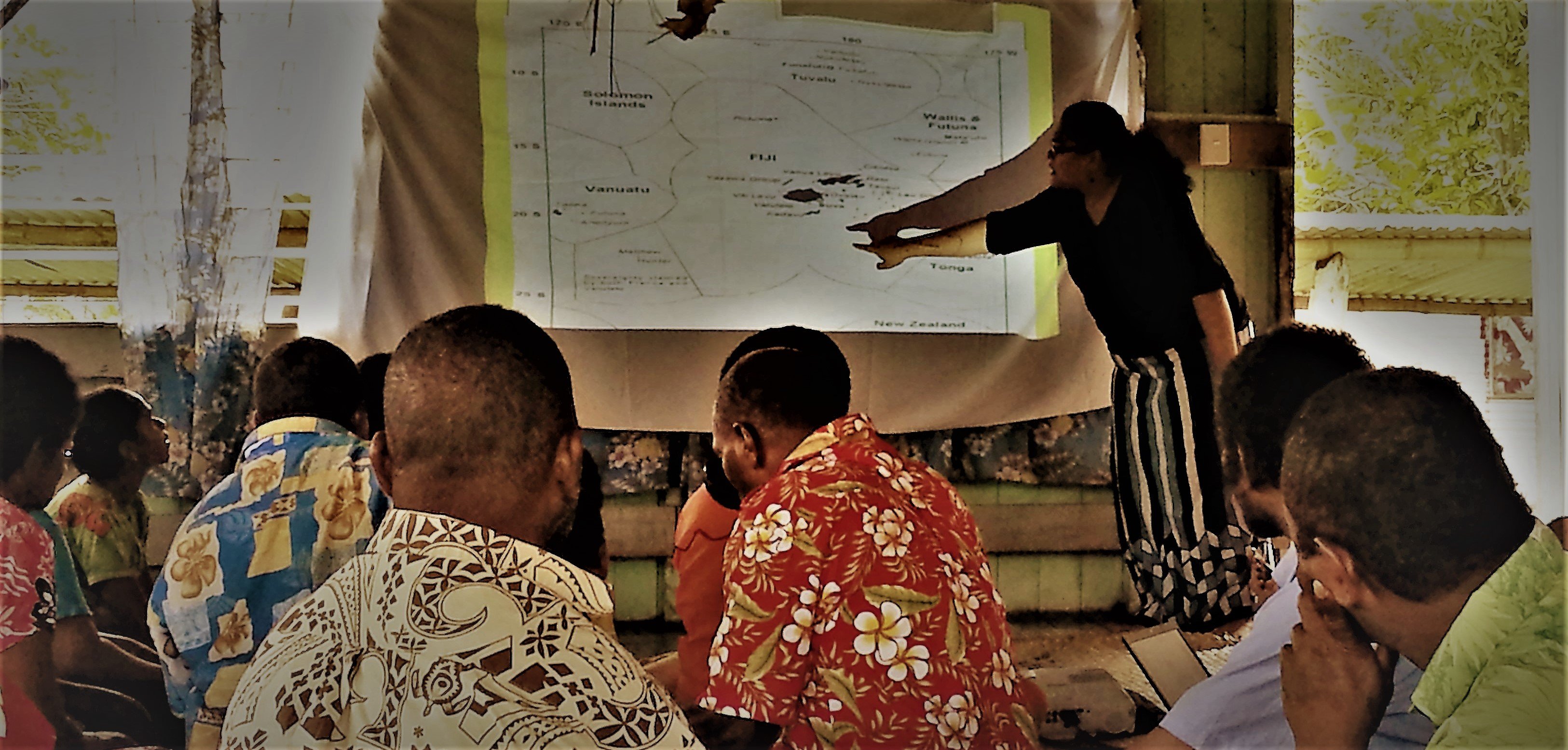 The value of ocean resources to Pacific Island Countries are often estimated from hundreds of millions to billions of dollars. These valuations recognise Pacific people's reliance on healthy oceans, reefs and coastal ecosystems for food security, protection from the elements, tourism and for revenue from the licensing for the exploitation of renewable marine resources. These valuations do not include other benefits that are derived from the ocean for Pacific peoples that cannot be quantified, and this includes but is not limited to: cultural significance, national identity and security. It is also often noted that the Pacific Ocean provides a global service as the world's biggest carbon sink.
Marine scientists have advocated the benefits of Marine Protected Areas (MPAs) for decades and it seems to us that offshore MPAs that are carefully designed and implemented in important areas of ocean in terms of biodiversity provide benefits in terms of their contribution to healthy ocean ecosystems. These benefits can then overflow into other areas including but not limited to fishing.
It has also been well established that to be effective the MPAs must restrict rights to remove/exploit marine resources, be enforced by the legal and governance system, and preferably be: large in size, reasonably remote, and established over a long time period. This last criteria indicates a related challenge for MPAs in that the benefits from tighter controls on activities may take time to show up and justify the political decision to designate the MPA in the first place.
This means that the implementation of MPAs creates a number of significant challenges for all PICs, including Fiji, including but not limited to:
The alteration, restriction or removal of existing legal rights in existing productive fishing grounds;
The potential loss of existing revenue from fishing activity in those fishing grounds; and
The additional costs associated with both designation, surveillance and enforcement of MPAs and the EEZ.
The three challenges can to some extent be resolved via transparent and inclusive decision making processes, careful design of MPA designations, with appropriate fisheries management tools - and crucially - enforcement of the rules.
The designation process should not be rushed, and must start by identifying the legal rights holders in the affected area of ocean. In terms of offshore areas this is likely to mean fishing companies who will also be represented via regional forums. From this point forward decision making should take into account the rights that are being altered, limited or removed and ensure that a consultative decision is made that tries to find ways to minimise the adverse impacts of the decision as well as basing decisions on the views of scientists and experts in fisheries management. This careful process may, for example, reveal potential solutions that find ways to balance fisheries management with stricter rules around fishing activity and further refine the designation of MPAs for the best outcomes. This refinement of the designations requires input from many stakeholders and demonstrates why a transparent and consultative process works best.
In a previous bulletin titled: Marine Protected Areas in Fiji waters: The law and governance context requires careful consideration and transparent decision making - The potential benefits of MPAs for Fiji was discussed and this emphasises the importance of careful and transparent decision-making processes prior to designation of MPAs in the Fiji context.
While the designation/design process should be consultative, careful and transparent and may be well assisted by input from NGOs and technical agencies - from a government perspective - the far bigger challenge is how to find the necessary funds to ensure required regulation of MPAs in the long-term. This will require ongoing and sustainable financing of the sort that is not always popular with donors.
This shows that OPOC's paper - that provides detailed consideration of sustainable financing options for Large Scale (offshore) MPAs - is well timed but importantly it emphasises the fundamental role of government to make offshore MPAs a success.
To provide additional context or insight in relation to one of the challenges for the government, in recent discussions with a colleague at the Ministry of Fisheries, it was explained in rational terms that without fishing companies successfully fishing in Fiji waters, government fisheries officers would not have a job. This brings home a number of practical and difficult questions for the government, including the potential for job losses and adverse industry consequences that changing the rules relating to fishing could result in.
OPOC's paper appreciates these challenges and specifically recognises:
That governments must find and allocate funding for the effective and efficient management of LSMPAs

That governments face tough choices that offshore - Large-Scale Marine Protected Areas (LSMPA) - present for governments in terms of foregoing revenue particularly for developing countries
To be successful at a national level there has to be substantive political will from the national government to implement offshore LSMPAs
The other challenges relating to implementation of offshore LSMPAs include their size, potential to cross jurisdictional boundaries, and cost within a developing country context.
To illustrate the point, the word "government" appears upwards of 100 times in OPOC's paper in relation to government's primary role to designate and manage LSMPAs effectively. Further in the table (table 6) of the ten successfully implemented LSMPAs, 8 list "government" as the primary or sole provider of funds.
This demonstrates that once the exciting fanfare around offshore MPA designation has tailed off, it is the national government that must continue to find the funding to ensure MPAs are successful for the national and global interest. A challenge that is not made easier by the fact that the paper points out that various sources of donor funding that will promote MPAs are not available to the government but are only available for NGOs or other technical advice orientated institutions, who may provide excellent technical advice and support but ultimately do not carry the regulatory burden that government Ministries and personnel do.
OPOC's paper is essential reading and it both sets out and provides an excellent analysis of the strengths and weaknesses of the various financial mechanisms that are currently available.
The paper presents and analyses the following financing options:
Mobilisation of public budget allocations
Private and philanthropic grants
Mobilisation of Office Development Assistance
Conservation Trust Funds
Debt for Nature Swaps
Environmental, resilience and social impact bonds
Environmental bonds
Impact investors and conservation incubators
Insurance solutions
Green/blue taxes
Payment for ecosystem services
User fees
Biodiversity and carbon offsets.
All of the above funding sources require careful further analysis to ensure that the required frameworks exist or are put in place to implement the above finance solutions in the Fiji context. To assist further, OPOC's paper provides a useful section on financial recommendations and guidelines for good financial governance. We are not as qualified as the authors of OPOC's paper to comment in depth on all of those finance options, but it seems likely to us that each of these financing mechanisms or a combination of them will provide solutions in the Fiji context for specific aims to advance or align with the aims of Fiji's NOP.
However, as lawyers experienced with Fiji's law and governance systems and the challenges faced by government we are interested to ensure that funding mechanisms channel the funding in a way that makes those funds accessible to support government regulation. The ongoing challenge is therefore to find the right Fiji entity and governance structure to capture the flow of sustainable financing that may also overcome some of the challenges identified in relation to donors providing direct funding to the government.
In our respectful view, a potential solution that may be explored is an established fund incorporated within Fiji with specific aims to support MPA regulation and boost existing efforts related to regulation of Fiji's EEZ. This fund would include key government Ministries, NGOs, academics and private sector individuals in decision making roles and enable the flow of funding to Fiji from a wide range of donors. The fund would require a carefully designed governance structure, but such a structure would have the following advantages:
The fund would not be "within government" and therefore funding would not be "blended" with a central government budget - this may resolve the concerns relating to direct funding of government from some donors as well as demonstrating to funders where the funding would go and the activities it would fund
The establishment of the fund/entity does not require law change, is likely to meet current government policy, will be innovative, and can utilise established accounting firms to provide financial and audit mechanisms within the governance structure
Fiji has many capable individuals, including marine scientists and NGO personnel who could be part of the fund and act in an advisory capacity
The fund would work with Fiji's existing regional and national governance structures in relation to other interests including but not limited to the fisheries sector
The governance around the fund/entity would ensure that the funds are allocated for specific purposes relating to the implementation of offshore MPAs that the government identifies.
An appropriate governance structure around this fund would provide the government with adequate controls over where funding is allocated to meet its aims in terms of the regulatory burden to implement offshore MPAs. This funding could be allocated in accordance with advice from regional fisheries organisations, including but not limited to, the Forum Fisheries Agency (FFA) to support monitoring, control, surveillance and enforcement initiatives undertaken by government Ministries or enforcement agencies including but not limited to the Navy and Police.
In terms of where to establish the fund, the Ministry of Economy has a potentially suitable initiative based within the Climate Change and International Cooperation Division entitled the 'Drua Incubator' which was first announced during COP23. The purpose of this new unit is to develop and incubate financial instruments and products that are tailored to Fiji's specific contextual circumstances and needs and has a particular focus on the development of low-cost risk transfer products. The Drua Incubator is expected to coordinate, manage, and also authorise the development and implementation of such products and will provide additional research capacity, technical analysis and partnership management services to support the scale up of financial products. This would suggest the Drua Incubator would be the right place to host the fund at least in its start-up phase as that Fund becomes be established in accordance with Fiji law as a separate legal entity accountable in accordance with its governance structure.
Conclusion
There are many good reasons to establish offshore MPAs, but to be successful this initiative will require substantial political will and long term commitment from the Fiji government. This makes securing significant and accessible funding essential, and OPOC's recent paper provides an excellent analysis of potential options that will undoubtedly be explored further.
The purpose of this bulletin is to set out just one idea that would provide a structure that is permissible within the Fiji law context to capture that funding for marine/ocean initiatives that would also bring all the relevant stakeholders together to support the government's long term and essential regulatory role, and provide accessible fit for purpose disbursement of funds.
The cover page of Fiji's National Ocean Policy 2020-2030 launched in February 2021: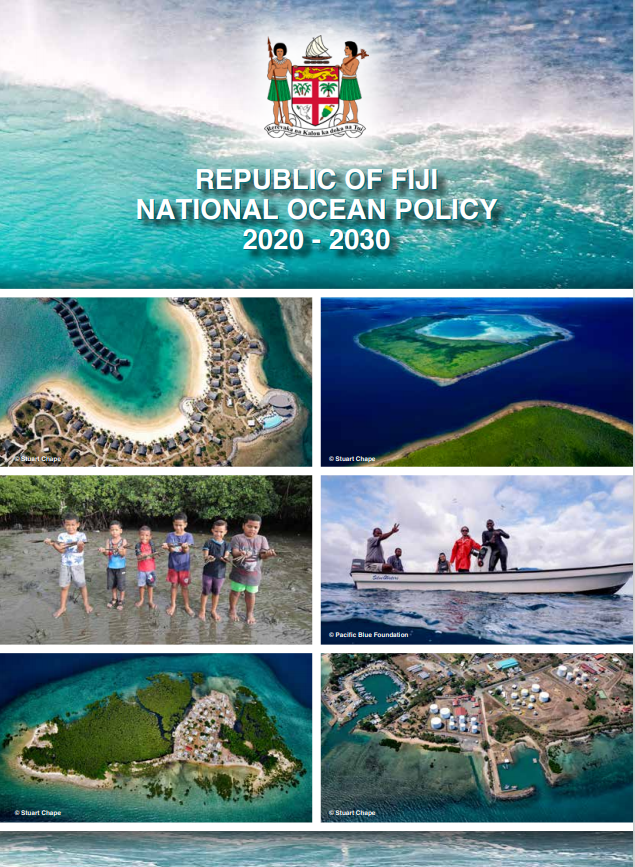 Please note


This bulletin is provided for information purposes only and it is not legal advice and should not be relied on as such.




This bulletin addresses the options for sustainable financing of, and government involvement in relation to, offshore MPAs only and does not address the designation of MPAs within Fiji's territorial, archipelagic waters and within Fiji's designated traditional fishing grounds.

This bulletin does not reflect or purport to reflect the views of the Fiji government or any Ministry of the Fiji government.