This commercial law update discusses a recent decision from Fiji's Employment Relations Tribunal ("Tribunal") which outlines important issues on jurisdictional limits and international labour contracting. The case of Daniel Sanchez v Sheraton Resort Fiji was decided by the Tribunal on 16 January 2019, and involved an expatriate chef employed by a large resort.
The Tribunal in awarding $37,670.00 to a Mexican national, Mr. Sanchez, set out important principles regarding:
the fair treatment of workers recruited from outside the Fiji jurisdiction
applied the same standards of Fiji law to Mr. Sanchez regardless of his nationality and
set an important precedent for the Tribunal's own jurisdictional limits.

Jurisdictional Limits
The Tribunal discussed in some detail the issue of its monetary jurisdiction, which is limited to $40,000 by section 211 (2) (a) of the Employment Relations Act ("Act").
The Tribunal distinguishes between a claim and a grievance by noting "that it is not correct to classify a dismissal grievance when first made to the Ministry and referred to the Mediation Service as a claim. It is a grievance that one party brings to the Ministry seeking resolution. It cannot be adjudicated upon," and further notes that there are no monetary limits if a worker brings a grievance to the Ministry.
As such there are no statutory provisions that bar a person from lodging a grievance with the Ministry and then having it referred to the Mediation Services, if they are seeking compensation of more than $40,000.00. However, once the matter is referred to the Tribunal then the "monetary ceiling imposed on any adjudication is $40,000.00".
International Labour Contracting
An important aspect that is also covered is in regards to international labour contracting for those employees pursuing employment opportunities abroad, as well as certain considerations that employers should consider if they intend to hire personnel and staff from overseas.
A foreign employee seeking to be employed locally should consider the:
length of the contract that they are entering into (whether or not it is for a fixed term);
circumstances for how an employment contract can be terminated prematurely;
relocation arrangements (whether this will include insurance and housing allowance); and
an adjustment period for change.
Foreign employees would also need to exercise some degree of caution, especially if hiring is being done through a third party who may make any "pre-contractual arrangements or representation" .
An employer, if hiring personnel or staff from overseas, would also need to be aware of third parties (like recruitment agents) who make any "pre-contractual representations on their behalf". The case notes that an employer could be held accountable for any "pre-contractual statements made by a third party", which may "entice" an employee to enter into an employment contract.
Unjustified Termination
The Tribunal held that the employers had also not followed their own procedures and policies when it came to dismissing the employee. For instance the employer in this matter claimed that a probationary period was in force at the time of dismissal and referred to its own policy as "setting out how it was to apply". However, the employer did not follow its own policies when it came to carrying out monthly reviews for the employee. It was held that because the employer did not undertake the monthly reviews and to that end, cannot claim that it had followed its own polices in any event.." it was further noted that the probationary period (if present in an employment contract) is a relevant aspect of any employment matter as it determines, as to whether the termination of the employee was justified for the purposes of the Act. The Tribunal further noted that a probationary period under an employment contract does not give an employer licence to do whatever you like. An employer still needs to provide a worker with justification for his/her dismissal pursuant to the relevant sections of the Act.
In addition to the above, the written statement by the employer setting out the reasons for the termination was inadequate for the purposes of section 114 of the Act. The termination letter that was received by the employee only noted that his performance during the probationary period was "unsatisfactory". No further details were provided in the letter to justify the reasoning behind the dismissal.
The Tribunal concluded in this case that an employer needs to clearly address issues of what happens in the event of termination, particularly when the terms of meeting costs of repatriation are not contained in the employment contract. Foreign employees intending to take up work locally also need to be aware of provisions in their contract relating to relocation issues and whether their contracts are for a fixed term. Evidence in relation to the performance assessment of the employee was also not provided at the hearing, thus the Tribunal held that the termination in the above case was "premature and without justification". The Employer was ordered to pay the sum of $37, 670.00 to the employee.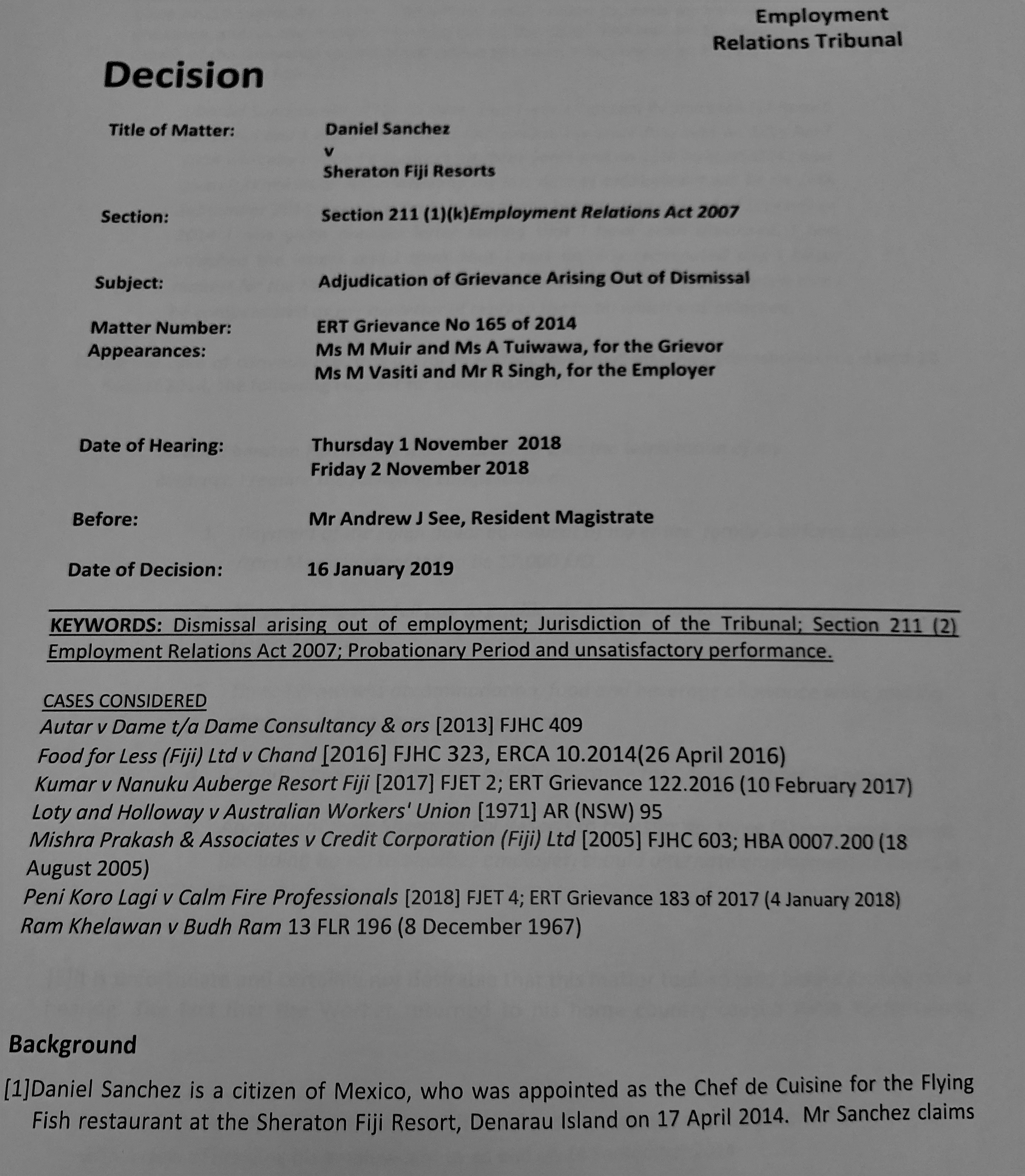 Conclusion
Employers would be well advised to be vigilant when hiring employees from overseas and ensure that any employment contracts that are entered into clearly set out any applicable terms, including issues such as probationary periods, the term of the contract and repatriation at the employer's expense upon early termination of contract.
The Tribunal further advised that employers should not use a 'one size fit all' approach when using standard employment contracts to hire foreign employees.
Finally, it is always important for employers to consider to an objective standard whether they are according or have accorded a fair disciplinary process to its employees. If there is any doubt, then early legal advice may save a great deal of wasted time, bad publicity and costs.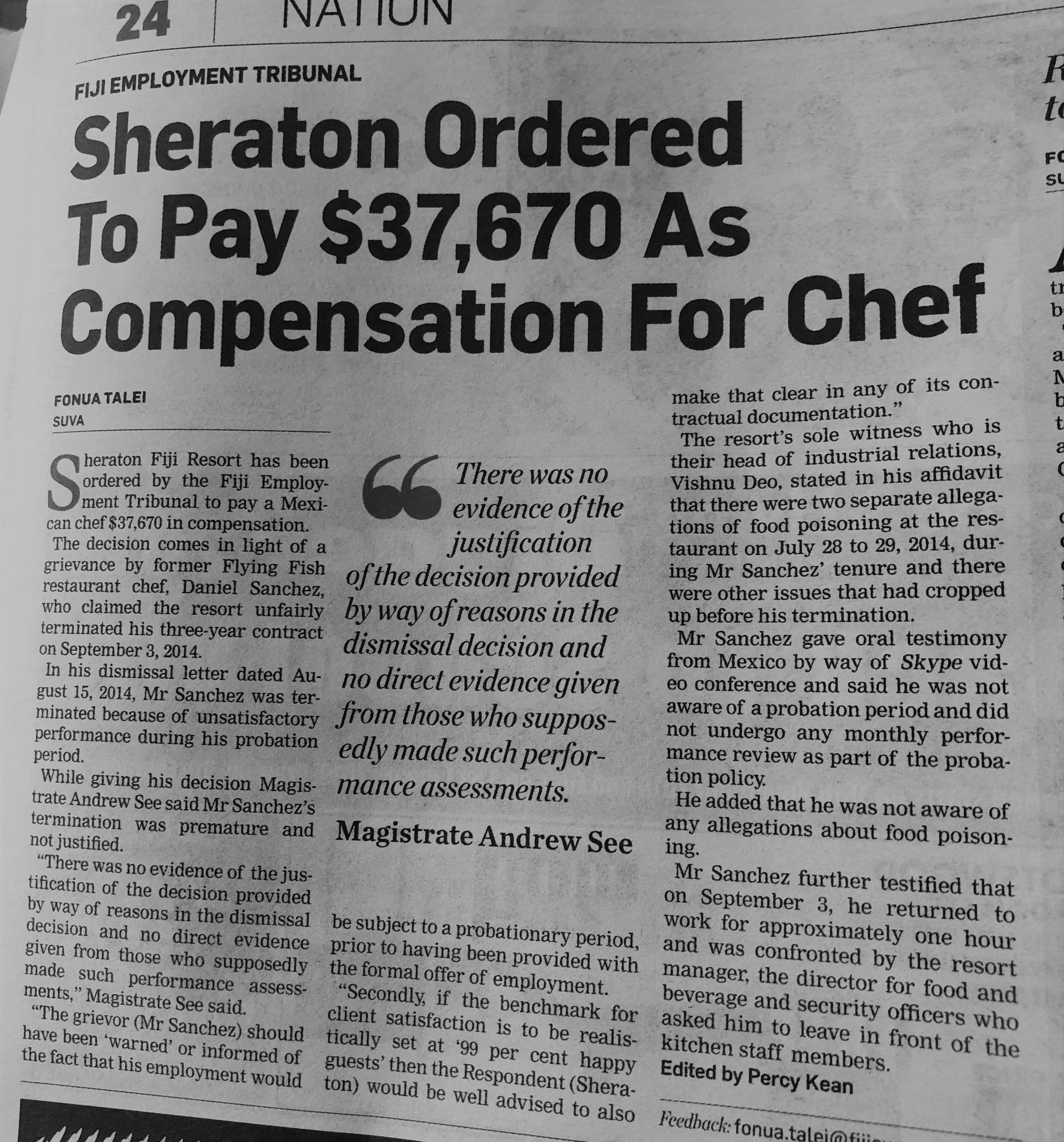 This commercial law update is provided for general information purposes only and is not, and should not be relied upon, as legal advice.
For more information on this case or other employment related matters please contact Ana Tuiwawa - ana@sas.com.fj